Article by Online Editor
Photography by Peter Clarke
Designer
Architect Hayball
Architect's Statement
Dandenong High School is a major regeneration project for the Victorian government that tackles the dilemma of the 'large' school by organising students within seven discrete SWIS (Schools Within a School) buildings. Our imperative was to create an environment in which students would feel 'at home' – where inter-age mentoring can naturally occur and functional student/teacher relationships flourish.
Resolved urban design strategies have informed the arrangement of the buildings across the densely occupied site, while their planning logic provides cues for orientation. The cranked southern walls of each carefully scaled building define figural chunks of prized landscape and give outdoor spaces a 'neighbourhood' quality, while colour – used across the seven buildings as an explicit identifying motif – makes plain the points of entry.
Internal planning strategies were devoted to strengthening each cohort's sense of community and are reflected by the buildings' form and language. Each building reads principally as a pair of metal-clad elements, one black and one white, which hover over and around a solid plinth base. A plan view reveals that these elements, which house learning studios and laboratories, are seemingly hinged at one end and then cranked apart; a large central space (and the recognisable triangular plan) is created in the process.
Encapsulation directs both the spatial hierarchy and students' focus inwards; the smaller teaching spaces arranged on the building perimeter each access the central 'common'. Within this otherwise open space, clearly defined nodes invite habitation of a particular type (media studies, IT, informal gathering, quiet study). These 'purposeful' spaces afford legible areas of focus and intensity – an evolution of the unplanned open spaces that often result from a call for flexibility.
The prefabricated floor system of the upper level permits the planning to break free from a typical plan-on-plan arrangement and allows discrete modelling of the two elements. This modelling plays the deformed, 'carapace' quality of the black volume against its Platonic white counterpart. The dialogue is enriched by the super-contrast of the sunward white box aside the south facing black sibling, and by the unrelated rules and datums to which each volume responds.
Review
"Faber Quisque Fortunae", or "Every person is the architect of their own destiny" is a suitable motto for a school undergoing radical change. The 90-year-old Dandenong High School fronts Princes Highway (or Dandenong Road) and has in recent years expanded massively with the absorption of two other local schools, Cleeland Secondary College and Doveton Secondary College. These three all had a different share in Dandenong's diverse ethnic mix, and the now 2100 student 'super' school has kids from many backgrounds. 'Dandy', as it is often called, is an outer south-eastern suburban centre of Melbourne, and is not to be confused with it namesake, the Dandenong Ranges, which form the eastern edge of the metropolitan area. Dandenong is a lower income area where investment in schools is most essential; with Dandenong High School, the federal government is spending $40 million to fund its amalgamation and the large amount of new facilities required. This involved redesigning not only the school, with the majority of teaching areas to be new, but the re-design of the curriculum and timetable. In this sense, a rare vision across operation, program and facilities is being achieved through a productive relationship between architects Hayball and school principal, Martin Culkin.
With the redesign process still not fully complete, here we will look at the first three, of an eventual seven, new teaching 'cluster' buildings. Stage 1 of the site-wide master plan is now completed. Stage 2, the remaining four clusters, is under construction. Stage 3 is the reworking of the 1919 existing building, and its subsequent extension in 1966 by Romberg and Boyd to house specialised teaching spaces.
The cluster buildings at Dandenong are a templated module based around an ideal collective number of 150 students. British anthropologist and evolutionary biologist Robin Dunbar formulated what is now referred to as Dunbar's Number in the 1990s as an ideal size for a social group in which healthy social relationships can be maintained (interestingly, the average number of friends belonging to any one Facebook account across its 300 million active users is 130).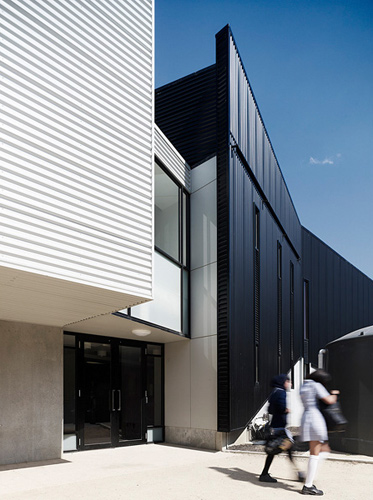 Each cluster building has 150 students on each of its two levels, in 50 student cohorts each with three teachers. Team teaching is accommodated through different spatial conditions, where students can 'break-out' in smaller respite areas, and work together in small groups to produce more effective and participatory outcomes. This pedagogy is loosely called 'Mode 2', 'Mode 1' being what most of us went through – a teacher at the front of the class, desks in lines, a front and back of the class – a clear linear hierarchy. It is a model still used, and typically older teaching staff tend to follow it. Most schools are now in some kind of transition from '1' to '2' and employ both to varying degrees. The Dandenong model accommodates this – each block features two traditional teaching spaces – orthogonal 'classrooms', but with bi-fold doors between them (something that has been around since the 1970s, if memory serves me right). The other teaching configurations are more contemporary and flexible – a strategy that seems to have resulted in a blurring between the separation of corridor and teaching spaces. As in domestic planning, corridors can be a waste of space and here widening them into rooms has produced a central teaching 'common'. In the buildings I visited at Dandenong these were filled with computers and while they were largely unenclosed by doors, seemed like the central hub of learning.
This cluster system in some ways is like the traditional school 'house' model often associated with private or more formal schools. Identity is achieved through association with your house, and often used as the basis for sporting competition. At Dandenong High, each building is a cluster named after a different native flower, and the 'bouquet' forms the school. This sub-school approach also has a name and acronym – the 'School Within a School' (SWIS) model and has been employed at Dandenong to deal with its large and potentially alienating scale. Typically a student will spend all their school years in the same building, only leaving for specialist teaching. This puts pressure on the building's quality and durability – it will become a large part of a student's school experience.
The different clusters are perhaps too successful at being separate 'schools' – each has it own reception, adjacent to seemingly generous staff areas. The teaching areas provide the necessary variation in experience, with niches sized like conventional meeting rooms, areas of elevated floor that can be used for further teaching and that also subtly suggest themselves as performance spaces. Another area is a corner defined by walls without doors to suggest a very small auditorium, suggested by further floor manipulation – folding up to become a couple of benches.
The key architectural concerns with templating are orientation and difference. Again comparison to residential design is apparent – most private houses in Australia are neither sustainable nor of good quality as they are not site-specific designs. These template designs by Hayball attempt something in-between – they have long sides that should go roughly north or south, and blank ends that take the east and west extremes. This does result in some redundancy in shading devices – first floor windows on the north and south feature both horizontal and vertical shading. As a result there are horizontal shades to the south, but the vertical east west shades block the early and late sun and help account for the 'rough' alignment. The reverse is true for the other side. They have a role in articulating the building however, and the scale of these buildings is somewhere between the domestic and the institutional.
A slice of colour is the key point of difference between the cluster buildings – each features a different coloured blade wall that marks entry. This is painted compressed fibre cement sheet and brings you into a double height covered entry porch and then inside. Black stained plywood is then used as soffit/ceiling and cladding to the other walls. This slick space features an almost Brutalist expressed concrete staircase which takes you to the first floor. This is an engaging passageway, and produces opportunities to orientate with views across the school and provides a material quality that would otherwise be dominated by plasterboard.
The outdoor spaces between the cluster buildings are scaled like streets and are essential to the success of the model. The future maturating of trees is vital – to both provide shaded outdoor spaces (of which there is not much yet) and to help with the overall ESD system through the use of deciduous trees. The use of mature tree planting would help in this regard, but is often prohibitively expensive. Given its importance, it could perhaps be a localised program where schools plant trees now that could be relocated on-site when works have occurred. Covered spaces through buildings or plantings are important – generally the postwar Australian school featured separate buildings connected by covered walkways, and these would often become activated edges during recess and lunchtime as the places for students to gather, as well as providing shade to the classrooms within. If these are to be moved away from, effective replacements need to be incorporated.
The clusters are made essentially from concrete – precast walling and Hollow Core concrete first floors in particular. The proprietary Hollow Core system is used here as an air labyrinth, with natural ventilation passing first through the slab to cool in summer and help warm in winter. This is a genuinely smart technique, as it uses an existing structural system to make a sustainable one as well. The air is pulled out at the slab edges and is assisted by an evaporative air-conditioning system. Lower energy evaporative A/C has come into fashion; once regarded as the poor cousin of fully ducted return-air systems, evaporative works well with openable windows as it relies on pushing air out. The building is clad in black and white steel roofing in a general language of stretching the roof over the cranked concrete and brick base. This provides an opportunity to vary the elevation, as this datum shifts up and down. Interestingly, the Department of Education requires no box gutters be used on its buildings, and so Hayball developed a hybrid concealed eave gutter that maintains a vertical face but results in a horizontal slit in the facade – the gutter sits in the wall plane, and can overflow as per a regular eaves gutter.
Central to the Building the Education Revolution (BER) process is the question of how good design, sustainability and templating can be resolved together. This is something Hayball has been very close to – in addition to the work here at Dandenong, the practice, together with Grey Puksand, designed the Victorian BER templates for the teaching spaces that are being rolled-out now across the state. Here, in the hands of capable architects, we can see that the template model can work. Hayball's use of a cluster model employs current teaching trends and has brought a clear urban strategy to a growing and complex school, one that has engaged with its social context.
Stuart Harrison is an architect and director of Harrison and White. He teaches at RMIT, hosts The Architects on Melbourne RRR and is Melbourne editor of Architectural Review Australia.