Article by Online Editor
Photography by Andy Spain, David Cowlard
Designer
Architect WHAT_architecture
Down an unassuming side road in the unassuming London Borough of Hillingdon is a decidedly distinctive school, with its facade composed entirely of Lego. The forty-metre-long wall calls attention for its diverse composition, animated by hundreds of children's motifs and images, as much as for its record-breaking use of over a million Lego bricks.
Described as a building 'for kids, by kids', the inimitable project by WHAT_architecture unites two previously disparate facilities – the Cowley Children's Centre and the St Laurence Church of England Primary School – and provides increased education and social amenity for staff, children and the local community. Not only does the building physically link the two educational bodies (now known as the Cowley St Laurence Church of England Primary School and Children's Centre – or its merciful acronym, CSLCoEPS+CC), the project is also fundamentally premised on connecting the children and their community with the design and build process.
WHAT_architecture director, Anthony Hoete explains, 'In public projects, consultation is very important… we had to find ways in which we could get people to engage and also to coax good responses out of them.' While the reality of achieving community involvement is often lost through a lack of interest or discouraging bureaucratic battles, here, the architect's pragmatic understanding of what draws people to participate helped surmount this. Hoete recalls, 'When we started meeting the kids and parents, we realised that if we were really going to get them involved in the design… it would be best not to use [architectural] drawing … because few people can read them – and no-one likes to draw in front of an architect!' After several schematic models were presented, Lego bricks were tested as a way to model design ideas for the school – and their potential to call forth interaction from the school community became evident. As a modelling tool, Lego is easy to use, it doesn't require any specific craftsmanship and children have an immediate connection with it – it is therefore very democratic. 'From that process,' Hoete notes, 'it became a natural evolution to thinking: instead of just designing with it, why not try to build with it?'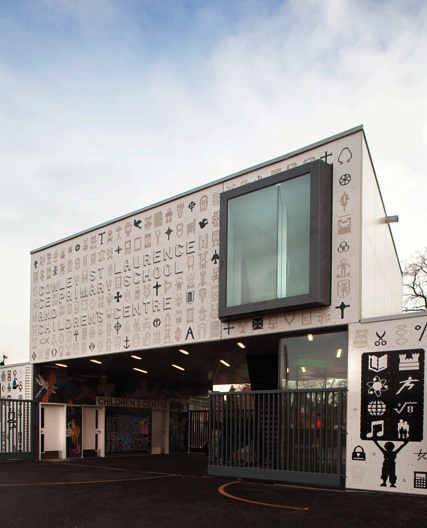 After numerous workshops with parents, children and members of the church and community, it became clear that although children couldn't entirely build their own school, they could be empowered to leave their mark on it. Each child was given a 'piece' of the facade – slightly larger than an A2 sheet – on which they would graphically express themselves. The democratic allocation of space coincided with a desire to embrace the UK government policy called 'Every Child Matters', a set of reforms supported by the Children Act 2004 that aims to support every child regardless of background or circumstances.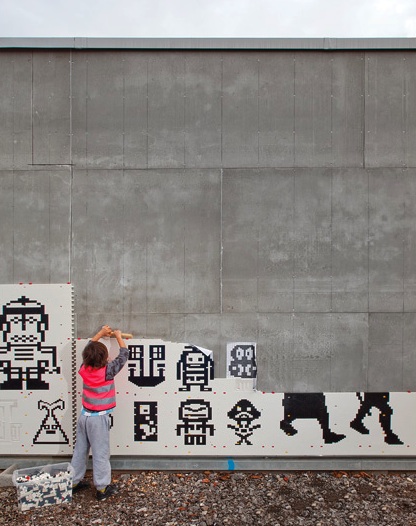 Diverse cultural, religious and scholastic themes emerged – from pixellated robots to rabbits, roman crosses and ankh symbols, which were originally grouped along the facade by year. Along the way, some of their imaginative responses caused contention – a Jesus who looked like Roger Federer, for example – and the wisdom of the Bishop of London was eventually sought. Pronouncing it a 'syncretic' composition, the Bishop's response led to the next difficulty: how to finally compose the images, the wall, and to gain enough Lego bricks to build at cost – or free? Unlike Lego itself, which feared litigious action should the project fail, the imaginative boffins at Legoland were adventurous enough to buy into the project, furnishing all of the bricks at cost.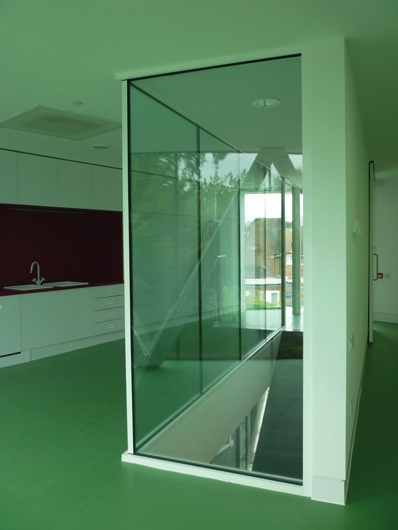 It quickly became apparent that the earlier idea for a colourful facade was fraught: 'We realised that when you give children free rein to all colours and types, it's like them walking into a sweet shop and they become seduced by the colour, rather than thinking about the architectonics of the brick … so then it went to a predominantly more scholastic – and in a way hieroglyphic – aesthetic of black and white.' Assisted by Legoland experts, imaginative techniques to work in relief and with perforated bricks were devised – creating an opportunity to include three-dimensional text in the composition. In fact, the principal black and white facade is accompanied by smaller, internal facades with colourful imagery, blocks of Lego people, and a 3D text describing the school's core values.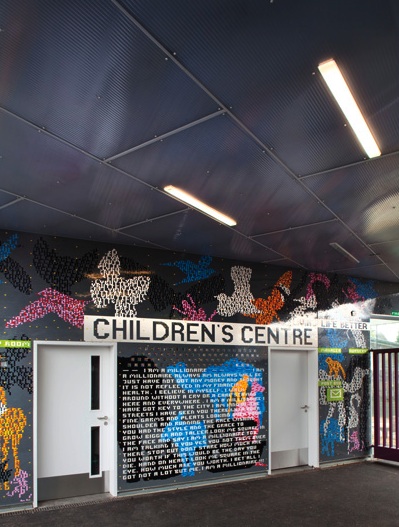 Though the Lego bricks are the icon of the project, the function of interior spaces was also important and is reflected in the facade composition. The linear plan was composed before the cladding, and was based on the need to efficiently organise and connect various functions required by the council. Essentially, it is an east-west bridge, broken into three parts – a Children's Centre provides spaces for adult and preschool child education to the east; an elevated staff room in the centre; and an administration and entry to the junior school to the west. The building is united along the southern edge by a walkway between the centre and the school.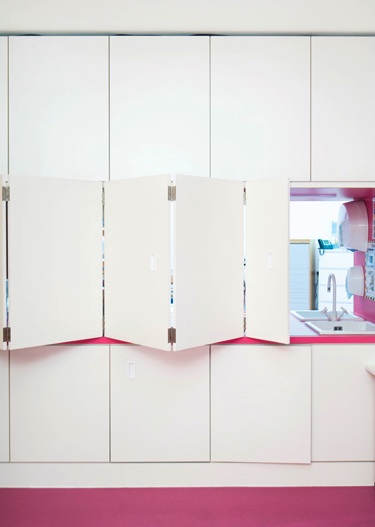 Punctuated by few, large, north-facing windows to the staff room and administration, Hoete explains, 'When we designed the Rooftop Nursery (2007), we realised that because of the fear of paedophilia, people don't like children to be seen unguarded from afar… so there are no windows [in the Children's Centre] but natural light enters through the Velux system in the roof.' Similarly, the adult room, which includes programs for resolving psychological and social issues, is internalised to minimise distractions. Here, a large skylight forms the ceiling, introducing natural light. The sensitive treatment of functions continues in the elevated staff room. With large windows south and north, it forms a natural point for surveillance and simultaneously provides staff some reprieve from students' prying eyes.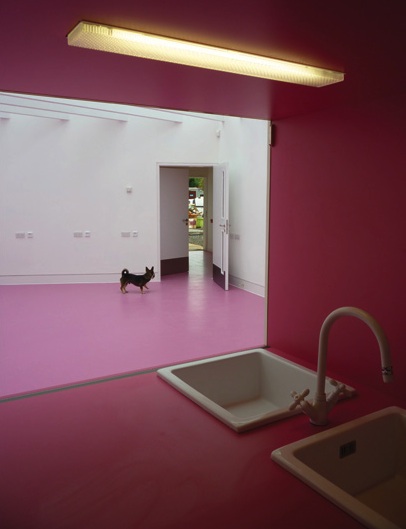 Accordingly, the three parts of the project can be loosely 'read' from the exterior: community activities that include literacy, language, family cooking and antenatal advice – as well as the children themselves – are grouped along the centre wall; the staff room carries the school and centre's name and the diverse religious beliefs of its community; and the more pragmatic character of the administration and school entry is punctuated by a large window that maximises observation and security.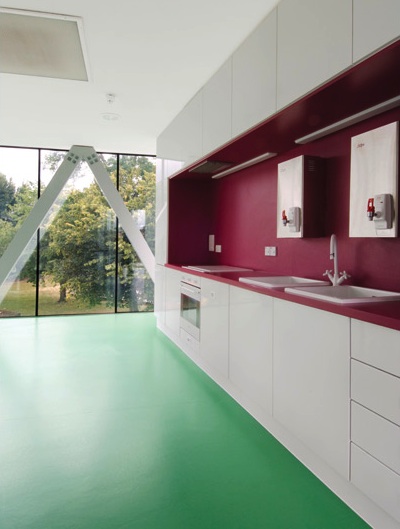 Though construction on site, brick by brick, from the bottom up, was logistically challenging, community participation continued right to the end. And the result? 'The community reaction has been generally supportive, but there's also been a bit of bewilderment – people still don't believe it's going to stay there – they think it's going to come down because it seems implausible,' says Hoete. Nevertheless, it is permanent – for seven years at least – and has afforded the local community a notable identity. As centre manager, Karen Western, says, 'I'm now known as the Lego manager!'
Rebecca Roke is an architect and editor who has written extensively about architecture and design for international publications. She is currently editor at Foster + Partners in London.