Article by Online Editor
Photography by Iwan Baan
Designer
Architect MAD Architects
"We wanted the museum to look a little bit out of place," says Ma Yansong, principal of Beijing-based MAD Architects. "It looks like a very minimal, abstract object, but when I see it in photos – with the buildings behind it and the trees around it – it looks really out of place." Ma's vision of discordance is achieved in the newly opened China Wood Sculpture Museum in Harbin, in China's northeastern Heilongjiang Province. The gleaming stainless steel-clad building, an embodiment of twenty-first century high design, lies adjacent to a group of anonymous concrete residential towers. "At the beginning I thought that they really didn't work together," says Ma. "Later I decided that's just the reality [of China]. I like seeing the contrast."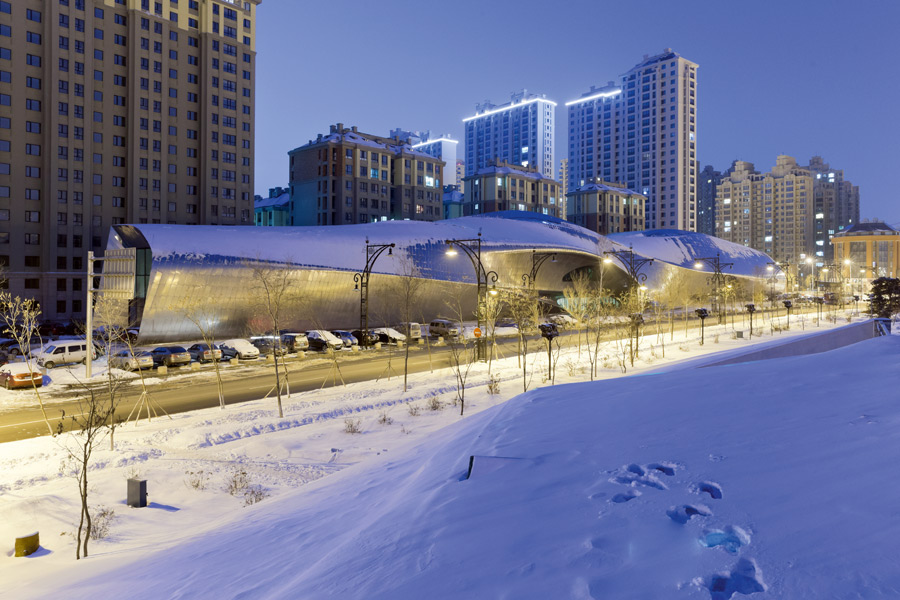 Ma explains the origin of the odd juxtaposition: "This building was meant to promote development in the area," he says. "I think it's a plus for the residents. You have a museum next to your home – that's a good home." Ma laughs at the suggestion. But it is likely a good summary of how the China Wood Sculpture Museum found its place next to a ubiquitous residential development. One should not underestimate the effect that a new cultural building has on property values in China.
The museum is part of Harbin's masterplan for a new town located between the old city centre and the airport. The plan called for a 'cultural street' with other like-minded buildings, including a museum of Asian art, a music hall by Isozaki Arata, a library by MAD (which remains unbuilt) and this museum. Ma says, "It's really rare to put a museum together with residential towers, because at that location it's better to put commercial or retail, generating street life. But here they wanted a museum."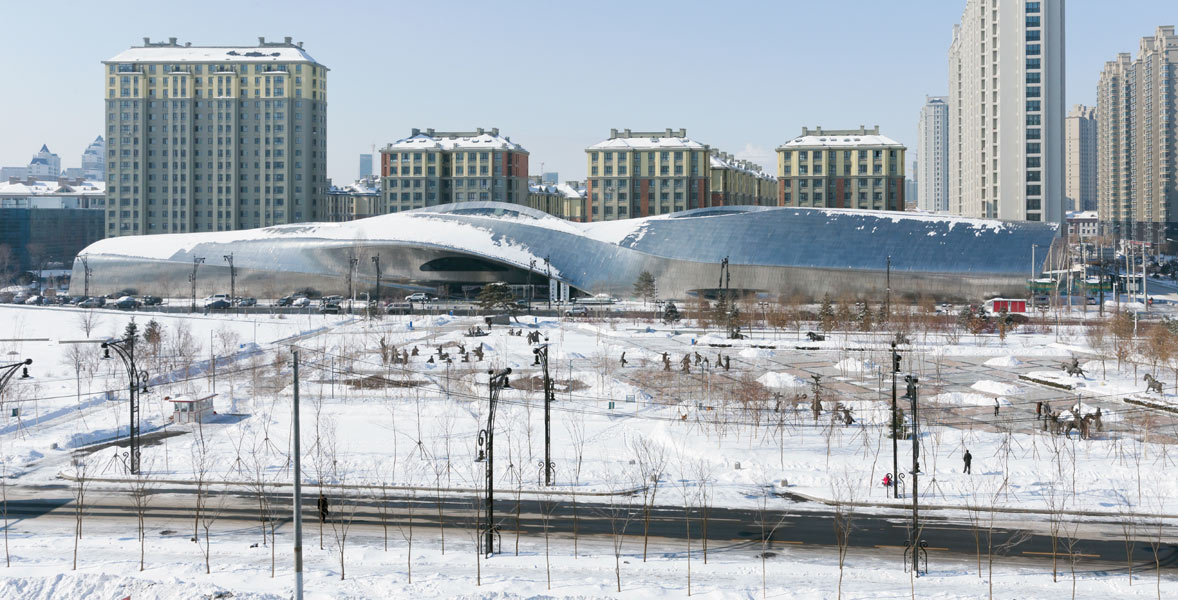 So why did the governmental client build a museum instead of a shopping centre? "They don't have to know why, because every city is building one," jokes Ma. The China Wood Sculpture Museum is just one small example of the museum building boom happening all over the country. A Chinese official claimed that 395 museums were built in 2011 alone. Museums are bringing the best Chinese and international architects in for prized commissions, whether to mark a city as a centre of culture or to increase the value of adjacent homes.
While the social and cultural implications of MAD's new museum are worth pondering, the "very minimal, abstract object" demands immediate attention.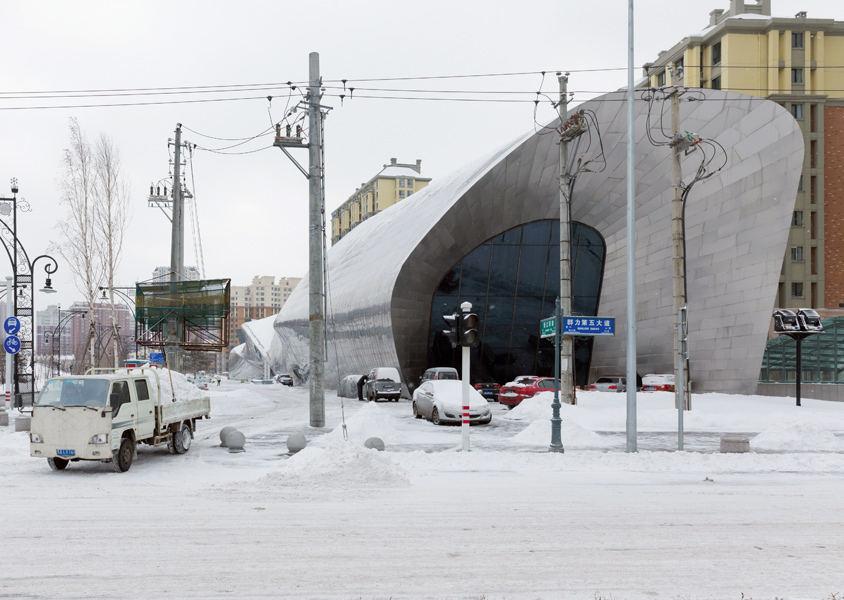 Set against the backdrop of a Chinese new town – or set almost anywhere on Earth, for that matter – the shiny twisting tubular form makes a strong statement. At 200m long, 32m wide and 21m tall, its fallen-icicle image contrasts with its surrounding towers. Ma describes the shape as somewhere between ice and water, an appropriate image for the museum's frigid locale. Three skylights and a handful of doors and windows are the only breaks in the streamlined form.
Ma planned that the interior would have a similarly sweeping flow as its exterior. "We wanted to show the true space of the volume," he says, "so that from inside you can't tell what kind of building you're in." But MAD's plan did not become the building's reality, as responsibility for the interior design was handed from one party to another. "The government wanted to give a naked-structure building to the museum organisation, because they didn't want to spend money on the interior," Ma explains. "But the museum thought they should only do the exhibition design, not the building interior. So in the end the museum gave an empty building to a group that had only done exhibition design. This group put all the panels and the floors randomly in this space, so it's a different feeling than our original design." It is not uncommon in Chinese museums that architects are disassociated from the exhibition design, but in this case the separation was significant.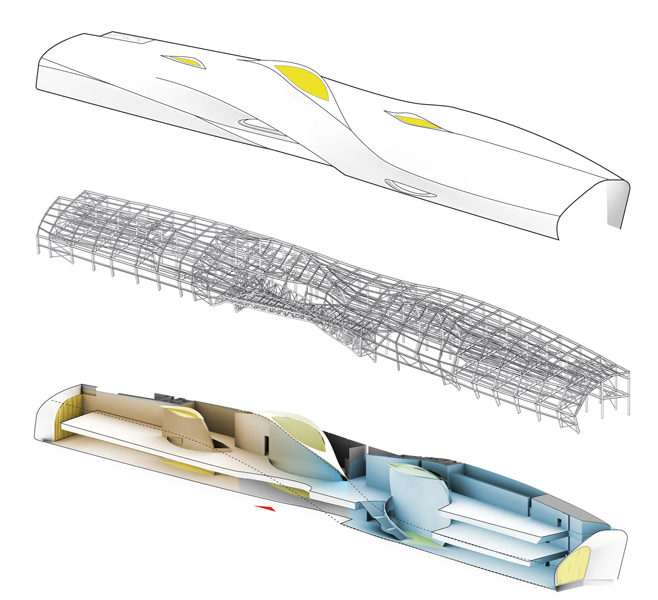 MAD did retain the museum's sectional configuration, with a central entrance dividing two storeys of exhibitions of wood sculptures from three storeys of paintings of snow and ice-covered landscapes. (Ma explains that the building is named 'China Wood Sculpture Museum' because Harbin is well known for its woodwork.) Ma is not clear on the exact nature of the collections, with few new museums in China designed with specific art in mind. He does know that the museum organisation has "a very conservative way of doing their work."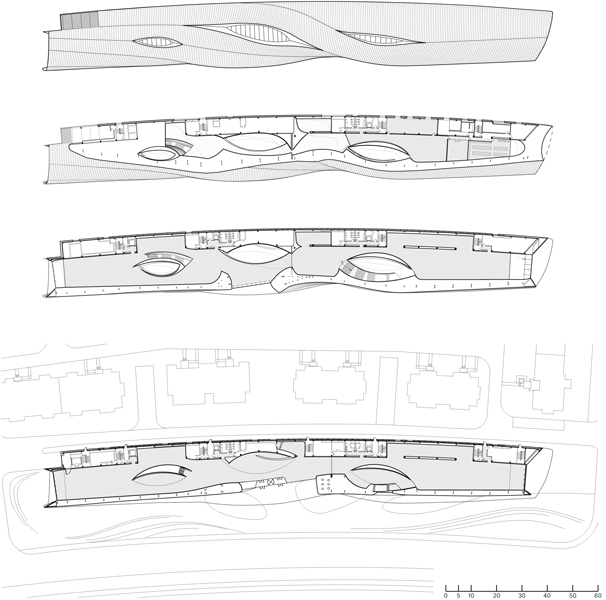 "But then they have to change their ideas, because when they put something into the building, they have to think how the two can work together." He notes that MAD's 2011 Ordos Museum – a similarly steel-clad, amorphous form – now houses a dinosaur fossil. The contrast between the nature exhibit and his design came as a happy surprise to him.
Still, Ma is not blind to the critiques of new museums in China such as his. "Now we are criticising people who design a building without knowing what to put in there. But maybe that's not a problem," he says. "Maybe now the building is not working well, but at least the city has given a parcel of land for cultural use. And it has a location for that use already in the building. Maybe in the future, there is a demand to change, and then you have room to change."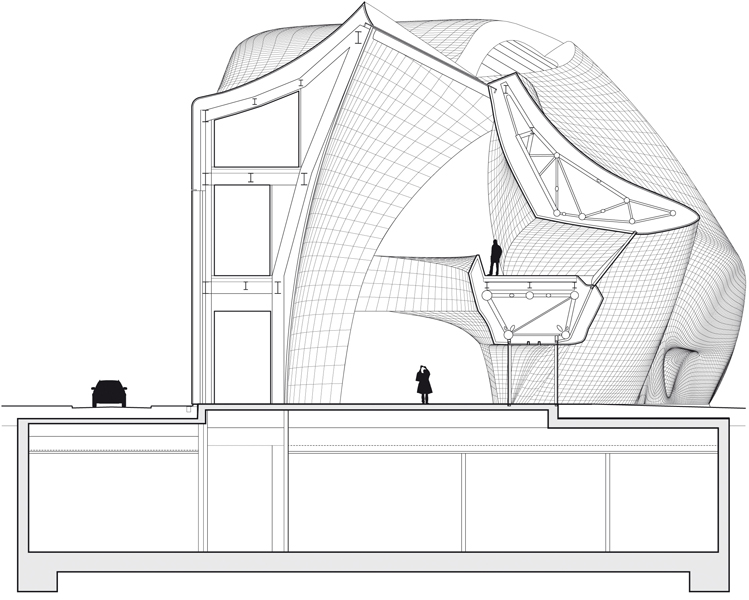 There seems much more room for change in the singular volume of the China Wood Sculpture Museum than in much new building stock in China. It will be interesting to see how the potential that the museum offers is realised.