Article by Online Editor
Photography by Patrick Bingham-Hall
Designer
Architect Charles Wright
Although a small building, the Cairns Botanic Gardens Visitors' Centre has a visual presence that extends far beyond its physical scale. Sitting within lush rainforest, its mirrored facets provide chameleon-like camouflage as a patchwork collage of its green surrounds. In an early project, Norman Foster cloaked the Willis Faber Dumas office in mirror glass to reflect, and respect, a surrounding historic precinct. Here, Charles Wright Architects has intensified this technique into a dramatic kaleidoscopic prism of reflective glass walls and mirror-finished stainless steel soffits and fascia.
At first, the fragmentation of views is reminiscent of David Hockney's panoramic, multi-perspectival Polaroid assemblages. Moving in, our changing viewpoint activates the skin. Like an inverse disco ball, flashes of light are drawn from the surroundings and slide around its undulating surfaces as we approach. The multiple moving reflections combine to give a mercurial liveliness closer to the liquid metal CGI effects in Terminator 2 than Foster's polite-looking glass.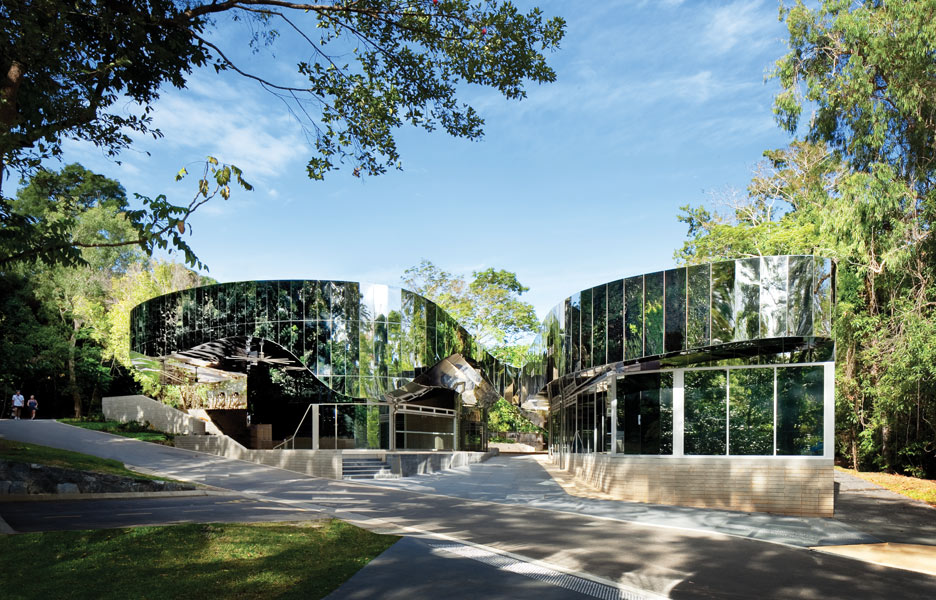 From a description, I doubted the strategy of building with mirrors under the glare of the tropical sun, but that initial misgiving was abandoned on visiting the site. Being so close to the tall trees, the external vertical surfaces reflect predominantly dark, cool, appealing greens from the rainforest, while the enticing central breezeway approach multiplies the presence of visitors in a playful hall of mirrors.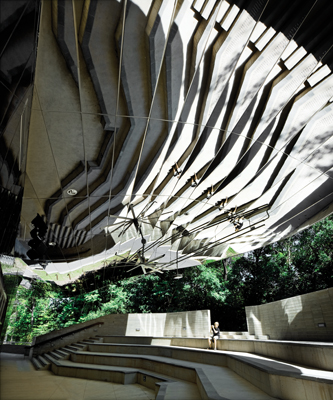 An unanticipated delight is the shimmer of the soffits to the roof overhangs. Although in complete shadow, these surfaces are brightened unexpectedly by reflection of the surrounding ground surfaces. In instances where direct sunlight is reflected down, it is as scattered and as inviting as pools of sunshine in a dappled rainforest clearing.
This little building also has a social and cultural duty that exceeds its modest scale and budget. Cairns is the stepping-off point to the World Heritage areas of the Great Barrier Reef and the Daintree Rainforest. The Cairns Botanic Gardens, located halfway between the airport and the city, provides visitors with a rich introduction to the plants of this torrid zone. The original 1886 Flecker Garden collection of exotic and endemic tropical flora has progressively been enlarged to encompass adjacent saltwater and freshwater wetlands at Centenary Lakes and mountain forest ecologies in Mount Whitfield Conservation Park.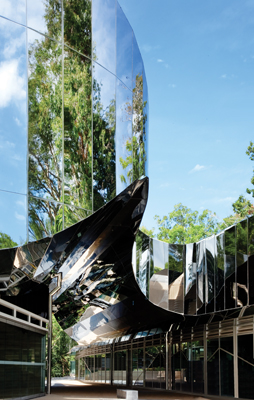 The Visitors' Centre provides an interpretive display gallery incorporating a café and amenities for visitors to the garden, and also acts as a gatehouse to the Tanks Arts Centre, Cairns' vibrant multi-purpose arts complex. The tanks are five huge, concrete World War II oil reservoirs now adapted for use as a robust and flexible gallery, and as performance and function spaces. The Visitors' Centre thus serves as a dual gateway to both natural and cultural wonderlands, making its playful theatricality doubly apt.
Charles Wright Architects was invited into a concept design competition in June 2009 and was awarded the commission in March 2010. The Cairns Regional Council's functional brief was very tight for the allotted site: a public interpretation centre, café and offices for the Botanic Gardens, together with offices for 30 of the council's staff. The irregular site was further constrained by existing paths, roads, easements and mature trees, and a gradient that made the delivery of full universal access particularly challenging.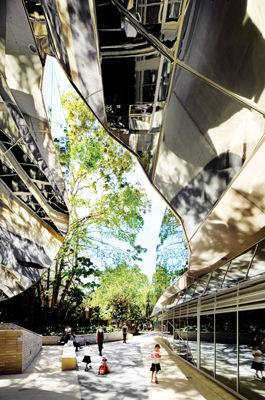 Wright describes a design and development process that was open and inclusive, with the client committee actively engaged in the choice of costed alternative design strategies for the planning and form, refinement of ESD principles and the final elevation strategy. He argues strongly for the mutual benefits arising from this open design process, pointing to the non-briefed inclusion of the informal amphitheatre space that arose as an economical alternative to excessively high retaining systems.
In the plan, two building masses line the sides of the common roofed breezeway entrance. The northern block contains the café terrace and opens to the major interpretation display and information space. The information gallery can be opened through to the shaded informal amphitheatre used for presentations to tour groups, but it also suggests myriad potential future uses.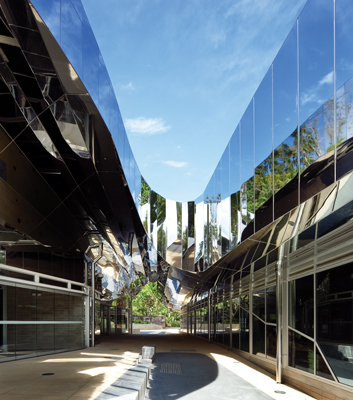 The southern block is an office building for council staff. A long corridor is edged by a one-way mirror wall reflective to the breezeway space, while allowing office workers a panoramic view of the visitors. The naturally ventilated corridor serves a linear sequence of cellular office spaces that all open out to the shared staff terrace on the south. This thin plan configuration encourages maximum use of passive cross-ventilation, augmented by efficient ceiling fans and convective thermal chimneys to the roof volume. Importantly, the cellular plan also allows separate control of air-conditioning to each room in the humid season. When combined with an insulated internal thermal mass, this individual control helps to minimise annual energy use through a mixed-mode operation.
The environmental principles for design in the wet tropics are simple but strict. The climate requires heavily insulated roof overhangs to both north and south, thin plans running east-west to reduce low morning and afternoon sun exposure, big openings to maximise cross-ventilation, high ceilings for fans, convective roof ventilation, cyclone-proof construction and durable materials resistant to mould and decay. Too often these principles are invoked to excuse hackneyed forms of 'tropical architecture'.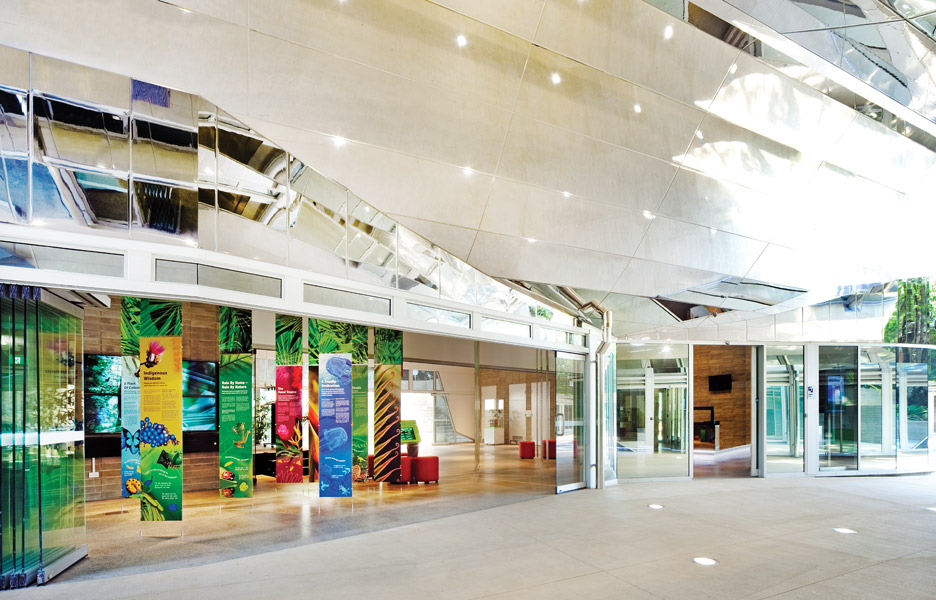 The old resort cliché is one of swaying palms, hipped roofs, shuttered windows and chunky timbers, while jaunty assemblages of thrusting skillions, awnings and decks with clunky steel fixings forms the new norm in the north. The Visitors' Centre demonstrates an architecture of deep shade, generous air movement, environmental efficiency, material strength and durability of quite a different form. In all respects, Charles Wright Architects has fulfilled its stated desire "to innovate and revolutionise current thinking in tropical architecture, to develop a progressive body of work intent on constant research and experimentation".
The Visitors' Centre demonstrates an open process of creative architects closely engaging with and informing the clients, and collaborating with good builders to give all parties the confidence to pursue new possibilities.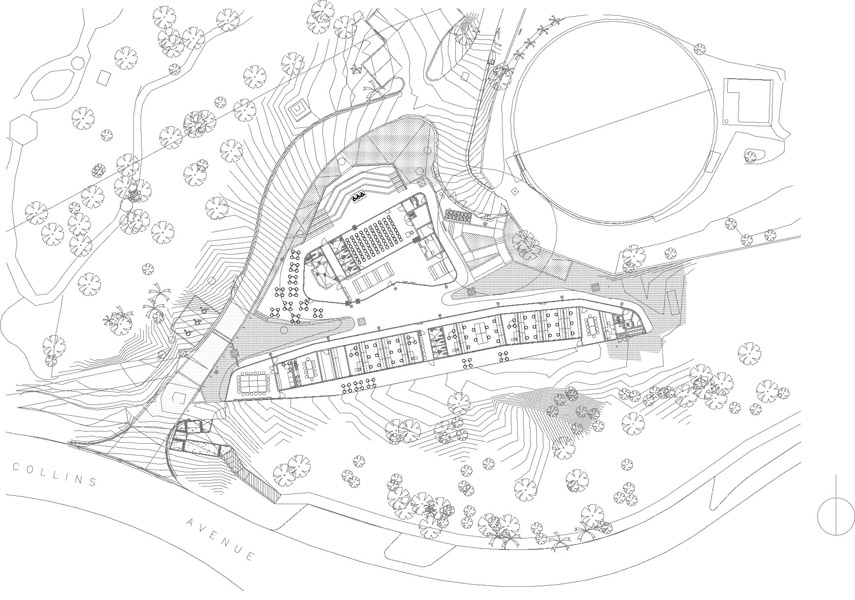 Peter Skinner is Associate Professor of Architecture at the University of Queensland and Queensland President of the Australian Institute of Architects.