Article by Online Editor
Photography by Richard Glover
Designer
Architect Collins Turner
Architect's Statement
At 88 Boomerang Drive, two houses are sited along a two-kilometre sand-dune ridge facing one of New South Wales' finest ocean beaches. The houses are siblings, related by a common architectural vocabulary and palette of materials. They share their site around a central courtyard, divided by an elevated lap-pool and low screen wall. Constructed in off-form concrete, tallowwood and zinc, the houses are designed to age gracefully in their coastal environment, and are conceived to appear over time as a collage of weathered surfaces that might be found on the nearby beach.
On approach, the houses are partially concealed by a stand of mature paperbarks, and then appear as striking four storey volumes linked by a dramatic ziggurat stair. On arrival at the dune living level, the buildings soften, relaxing into their beachside location. Like geological strata, the buildings transform in a series of layers from concrete enclosed solid forms at the lower level containing parking and storage areas, to weathered rain-screen timber cladding of the bedroom and primary living levels, up to lightweight zinc and glass pavilions at the highest level, each containing a living space with spectacular views to the beach, headlands and ocean horizon beyond.
Internally, polished concrete floors are combined with limed oak ceilings overhead, bronze toned panelling and Carrara marble to the service pods. Materials such as concrete for the floors were specified as much for their appearance as for their beach-side practicality. Externally, off-form concrete is used for decks and access stairs, as well as built-in benches and the elevated lap-pool. The tallowwood cladding is weathering to a driftwood silver grey, bringing it into harmony with the greys of the concrete and the zinc.
Commercially, the project has fulfilled the client's brief for maximum floor area, plenty of accommodation and high quality materials. Despite this, the houses succeed in presenting as modest structures to the beach with breathing space around them, in the form of courtyards and lawns. The dedication of the client and the builder to achieving these aims is evident in the result.
The project won the RAIA Aaron Bolot Award for multiple housing in 2009.
Review
Architecture can be a funny game – jobs come in strange ways. Penny Collins and Huw Turner first became known in Australia for their Bombala farmhouse (documented on their kitchen table while living in London, where they met in Norman Foster's office). This project, completed in 1998, was followed by a small number of other discreet projects – a couple of beach houses in the Merimbula area, collaboration on a house on the cliff top at Dover Heights. Then one day, a banker and his interior designer friend are discussing the banker's frustration with an existing project and the interior designer recommends he contact a girl who sat next to the designer in an office in London… In the space of a week, Collins and Turner are being asked to work on a new commission, for a pair of houses at Boomerang Beach, north of Sydney.
The brief is simple – two houses, side by side, one built to be sold, the other to be kept as a permanent holiday house for the client's extended family. But the possibilities of the project are tempered by some gruelling constraints, as the 'project baggage' is deposited on their meeting table. The client has just 'come to the end' of a working relationship with another architect, discarding a scheme for twice his budget. The client is extremely literate in design and architectural history, and has also done a lot of building work himself. He is very clear in what he wants and what he is prepared to spend and, most critically, he needs the project submitted for DA within eight weeks of briefing.
Collins and Turner rose to, met and surpassed the challenge, and the resulting houses were this year awarded the Aaron Bolot Prize for Residential Architecture – Multiple Housing. The houses sit discreetly behind the scrubby beachfront, and are constructed of a mixture of off-form concrete, ventilated timber screens and zinc – "things that might be found on the beach". They have been exquisitely constructed by local builders Walter and Gisela Duber, and look like they could get better with age. Visiting the house, we joke about returning "to give the place a crit" in another 20 years.
Closer inspection reveals more and more delights (unusual for an Australian beach house) and the architects' obsession with detail is evident. The rectangular houses are placed in parallel, separated by an above ground lap pool (serving the main house) and a concrete and timber dividing wall. This pool is a breathtakingly strong and simple device, a single vessel, cast in situ in one pour, and simply filled with water. It is unlined, but as it's made of 42MPa concrete, it is completely waterproof. As it is 1200 millimetres above the adjacent deck it requires no fence. And as the main living level is three steps higher than the deck, adults can supervise their children from the house. This sectional and material dynamic immediately raises one's expectations about what else may be in store.
The plan of the houses, very similar to each other (but with slightly different specifications) is equally deft. Houses on the beachfront here can only be a compact two storeys above garden level, and therefore a series of forlorn master bedroom suites tend to occupy the prized first floor spaces facing the beach. But in the Collins and Turner project, each house has its upper level given over to a shared reading/family room, where the client imagined "a family could gather for drinks at sunset".
These upper level 'pop-ups' are connected to the main living level by large voids, so generous that even the assessing planning officer at the local council was absolutely convinced the client/architect would fill them in to make additional accommodation. "Why," they argued, "would a client throw away so much first floor space?" But these voids set the spirit of each house – they collect air and daylight for the ground level, they provide a quiet mezzanine to retreat to, away from boisterous groups. They are the generous counterpoint to the almost monastic bedrooms at lower ground level.
This is a beach house in a true sense, made of self-weathering materials, with polished concrete floors, designed for people who like to be together, and for whom a bedroom is a place to sleep soundly, but otherwise be out of. The lower bedrooms are simple and constrained, and are arranged carefully around a pair of bathrooms and a serious 'double' laundry. Other discreet doors allow access to a concealed subterranean cellar and vast water storage tanks.
The ground floor plan is organised by a series of 'pods' to allow gun-barrel views from one end of the house to the other. You are unaware you are looking through the main bedroom until you wander into it. Concealed doors mean this can be closed off as needed, or left open as part of the spatial continuum. Whichever direction the sun comes from, and whichever direction a breeze comes from, it pours into the main level down these allées.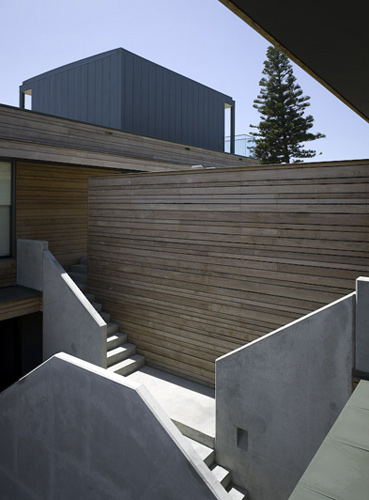 The pods, a rich dark bronze colour (for which the client proffered a carry bag for colour-matching), are each like a Swiss watch. They are packed with things – bathrooms, wardrobes, pantries, concealed doors – which slide out to transform the plan into a series of rooms. They conceal the detritus and sophistication of modern life.
The main living level, therefore, has the simplicity of a 1940s or 50s beach house. This is extremely difficult to manage in modern houses, especially those built to such a high specification. If anything, one wishes such robustness had been pursued even more vigilantly – the client's request for home automation, or the odd smart tap, seems somehow less in the spirit of the place than the buildings themselves. The screen of the stairs to the upper level is slightly fussier than it could have been. Apart from some tiny touches though, the houses feel like they could last forever.
This is an incredibly happy and cohesive project, satisfying to all the parties involved, and full of delight for visitors now. The combination of a supportive client with sophisticated planning has produced two houses of great monolithic strength. They are made of a refined selection of materials, using extremely skilled construction. May they long remain as a benchmark for speculative coastal developers.
Genevieve Lilley worked for eight years for the British architect David Chipperfield before establishing her own practice in London in 1999. She returned to Sydney in 2004. She works deliberately at a small/medium scale, alternating architectural and interior and furniture commissions with the design of jewellery for Venerari in Sydney's Strand Arcade.