Article by Austin Williams
Designer
Splendidly Fantastic: Architecture and Power Games in China
Julia Lovell
Strelka Press, 2012
Softback | 29pp | $2.99
The Strelka Institute is an architecture, media and design postgraduate program based in Moscow that was set up in 2009 with the express aim "to improve the state of education in Russia". Funded by billionaires Sergey Adonyev, owner of the biggest wireless broadband network in the world, Alexander Mamut, previously known as the "Yeltsin family banker" and Dmitry Likin, design director for the largest Russian TV channel, it is a "non-profit organisation" that provides free English language education to a select band of students from across the world. Admittedly the postgrad course is just nine months long, but there are few complaints, partly it seems, because Rem Koolhaas is the research director; and partly, maybe, because the student bar offers an extensive cocktail list and its head chef "is the first ambassador of the new wave of Scandinavian cuisine in Moscow".
As part of its research agenda, Strelka has published some occasional papers to provoke debate and stimulate further enquiry. This latest commission is by Birkbeck professor, prize-winning author and translator Julia Lovell. Examining the way that the built environment expresses China's national narrative, she shows how the formal axes of Imperial China represented a microcosm of the universe with the Emperor at the centre, whereas Mao's planned destruction represented the dominance of man over nature. She sees the current building frenzy as representative of the erosion of "the political contract between citizen and state".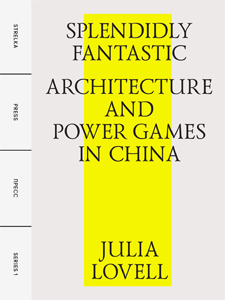 Lovell explores the contradictory motives and ethics, as well as the political, social and economic dynamics behind China's contemporary building boom. There is an especially lucid expose of a looming construction bubble (if, that is, China played by normal market rules).
There are many other informative tidbits here, providing a whistle-stop tour around the cultural meaning of the built environment: of Mao's destructive architectural legacy; the effect of contemporary economic liberalisation on the urban form; the status of western architects; and the relationship between China's so-called socialist market economy and rampant property development. To do any of this justice would require far more than the 10,000 words allotted, but as a non-academic treatise, it is a useful and informative pamphlet: a provocation – not a 'book' as Strelka's website insists on calling it.
The title of the pamphlet – a quote from Ben van Berkel of UNStudio – is meant to be a knowing condemnation of the naiveté and extravagance of architects working in China. As an ultimate display of her moral autonomy from the likes of Koolhaas, she opens with a sideswipe against OMA and the CCTV Tower in Beijing for "building shrines to capitalist modernity". The rather barbed criticism that the building cost twice the country's annual budget for rural healthcare is reminiscent of a leaflet bemoaning the building of the Millennium Dome or the folly of Olympic Park.
Lovell is clearly critical, or cynical, about the role of western architects in China. That is her prerogative, but she fails to acknowledge a professional discernment between working for a client and agreeing with that client. Quoting favourably Philip Johnson, that: "architects are pretty much high-class whores" she forgets that we don't all agree with – or even choose – our employers. But we don't need to disagree with them either!
Sadly, it is becoming usual for western commentators to grandstand on this issue. As a passive protest against totalitarian regimes, they would rather shoot the messenger. When one OMA architect remarks that "in China, there is a debate about progress that isn't happening elsewhere", Lovell can only conclude that they would say that, wouldn't they. "Very few architects," she asserts, "will openly admit that the appeal of China as a working environment springs from its authoritarianism." In her haste to ridicule, she ignores the fact that there is indeed a debate about progress in China that isn't happening anywhere else.
But the broader question is whether western architects have a responsibility to speak out against authoritarian regimes or whether they should mind their own business? Is a commercial engagement the same as complicity? And why should architects care about the moral stance of their client, unless it personally jars with their own? What kind of authoritarian society would we live in where we had the right to question the ethical status of our clients to check that they are morally normative, or to condemn those who work for clients that the chattering classes proclaim to be dodgy? These open questions are useful if they help to improve the quality of intellectual discourse, but the holier-than-thou tone that occasionally shines through this pamphlet feels like the answers are a foregone conclusion.
Fortunately, however one-sided the arguments, this Strelka pamphlet cannot help but stimulate a critical interest with the issues. In that way alone, it might improve the state of education – not just in Russia.