Article by Online Editor
Designer
How to Make a Japanese House
Cathelijne Nuijsink
NAi Publishers, Rotterdam, 2013
Paperback | 328pp | $38.00
Those with a fetish for the deliciously refined genre of the contemporary Japanese house would already be familiar with the work of Cathelijne Nuijsink. While undertaking her doctorate studies at the University of Tokyo over the past 10 years, Nuijsink has been interviewing Japanese architects and regularly sharing their work via international publications such as Frame, Mark, Abitare, Domus, AD and Metropolis (US). The fascination of these small homes has culminated in Nuijsink's first publication, How to Make a Japanese House.
Although this publication is full of seductive images of Japanese dwellings, it is not a coffee table book. Typically, contemporary Japanese architecture is presented to Western audiences in a very abstract way – Sou Fujimoto models are more diagrammatic than qualitative and Atelier Bow-Wow's sectional perspectives are so functionally descriptive as to not require any annotation. But what is typically absent in this purely graphic and quantitative mode of communication is an indication as to what is driving the culture of these radical projects.
As her name suggests, Cathelijne Nuijsink is not Japanese but Dutch. Her position as an outsider and her ability to speak both Japanese and English, as Taro Igarashi states in the foreword to the publication, has placed her in the unique position to make meaningful and objective observations for Japanese and international readers alike. Igarashi, who himself has compiled a publication on the contemporary architectural scene, notes that: 'Japanese architects design in such a refined and very detailed way that it is not always easy for foreigners to understand', leading to the 'Galapagosisation' of the contemporary Japanese scene. With this unprecedented perspective, Nuijsink's research adopts a comparative technique to draw out the peculiarities of the processes behind key architectural projects, relative to each other and their broader context.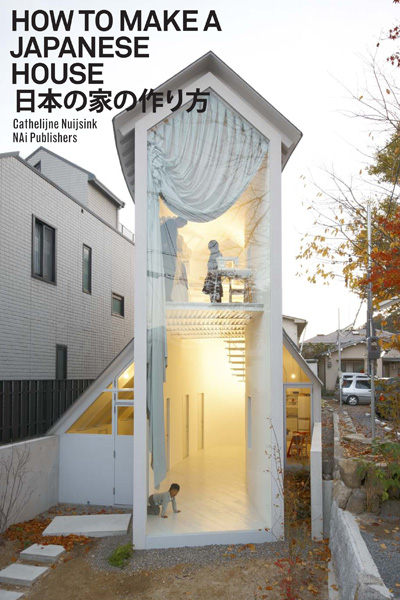 How to Make a Japanese House is therefore not a guidebook but a Darwinesque compendium of key observations on the evolution of Japanese housing. Her findings are presented through the lens of 21 individual houses, not as reviews but as an interview between Nuijsink and the respective architect. The interviews often go into great depth in discussing very specific details within each project, providing an understanding of the project's intent and how such motifs act as a manifestation of the architect's broader principles. For example, an interview with Manabu Chiba on his Studio Gotenyama project largely focuses on the insertion of deep, kaleidoscopic windows set in its facade. This personal reflection reveals both the unique connection to site that this device enables, as well as Chiba's broader interest in a return to an ambiguity in the distinction between house and community.
The idea of returning to a set of traditional residential values is a common thread throughout and is further explored in a series of contextual essays. A bookend structure of essays-interviews- essays enables not only an insight into individual projects and manifestos from key practitioners, but also a rare discussion on the subtleties that create this architectural culture. In order to understand the morphology of this 'scene', the interviews are presented in chronological order based not on the date of project completion, but rather the architect's birth year. The interviews are also grouped into 'generations' of architects – those born in the 1950s, 1960s and 1970s.
This concept of generations is based on the notion that contemporary Japanese houses typically have a lifespan of 20 to 30 years, a unique condition created by 'post-bubble' government policies, indirectly related to the building industry. With such a short lifespan, each house becomes highly bespoke, both in relation to the needs of its client and in its response to site, creating a physical manifestation of the architect's ideology at a particular point in time.
The continuance and evolution of ideology can be traced via the transfer of values between student and master. For example, Junya Ishigami, who established his practice in 2004, worked at Kazuyo Sejima and Associates; Sejima, in turn had worked for Toyo Ito; and, Ito worked for Kiyonori Kikutake who, Igarashi cites as, 'the architect of Metabolism'. As a result, the Metabolist tradition has continued through all generations of architects, with each adapting the movement to the conditions of their respective context.
The Japanese architects graduating during the recession of the 1990s responded to a lack of conventional work by forming collectives and undertaking extensive local research, which has led to this returned focus on, and response to, local conditions. Further, the Japanese tradition of the student-master system further propagates the circulation of local design knowledge and the development of a clear lineage of ideas. Subsequently, each generation is defined by the adoption of, and reactions against, the teachings of their masters and what they draw from the broader context that they are working in, including changing socio-cultural values, strict legislative conditions and economic pressures.
In our own 'post-bubble' existence, Nuijsink shows that the profession has much to learn from examining the shift in design drivers and how these manifest in projects across a lineage of related practitioners. In addition to her specialist field of Japanese architecture, Nuijsink has begun a similar comparative study of the younger generation of architects in other Asian regions, as well as Mexico and Latin America. It will be interesting to see what her insights reveal about other emerging architectural cultures and, subsequently, how it may provide an impetus to establish a Galapagos effect within the Australian architectural scene.