Article by Online Editor
Designer
University of Melbourne's Faculty of Architecture, Building and Planning hosted the More than one way to skin a building event as part of the ABP Agenda series (video here). An event featuring US critic Alexandra Lange aimed at discussing criticism in the contemporary discipline, with the overarching focus on new mediums impacting upon architectural criticism. Lange was invited to speak at a number of events (Adelaide, Melbourne, Sydney and Brisbane) on her short visit to Australia. For posterity purposes, it seems worthy to publish the presentation I gave as part of the introduction to the debate in Melbourne, followed by my notes from the Sydney event. This will be furthered by a review of both events from Tania Davidge – architect, writer and director of openHAUS.
Melbourne, March 7
An audience of close to 400 came to participate in the University of Melbourne event, chaired by Justine Clark with panelists Alexandra Lange, Dr Karen Burns and Dr Rory Hyde. The text presented:
"As editor of AR, I find myself in a role at a time when the profession needs to be questioning the barriers of entry or establishment; or possibly deviating from the conventions that we, as architects and writers, either setup or play to. In terms of magazine publications, it is particularly concerning that we find ourselves having to justify our own relevance in this false dichotomy between the end of the in-print and the rise of the blog or online forum. A case in point for such maladjusted thinking is the prophecy of Victor Hugo that the 'book will kill the building'. It is intriguing to consider then, the start and end-point of criticism in contemporary discourse. Currently critical accounts can be embryonic in the print version of publications, but it normally extends into the ether far more rapidly and with greater commentary.
In approaching Domus for our series on Elements, Marissa Looby [my co-author] and I were without much notable pedigree in terms of printed articles or even blogs. We simply approached them with an idea. We wanted to speculate on what constituted criticism in the contemporary profession. Our method was simple: to take one single element from one architect or practice, and to extrapolate it across the body of work in order to find a critical account – allowing the element to curate new discourse or opportunities for discourse. We wanted to speculate, we had an idea, but we didn't have the vehicle to propel it forward. As practising architects in New York, Marissa and I were in jobs that were not appealing to our investigative, critical and speculative nature. Domus – or more precisely their online forum domusweb – provided that, and so the series was borne.
What I find extremely liberating from our articles on domusweb is that the word count can be as much or as little as you like. Each article written is approximately 2,800 words. I would struggle to commission an article of this size in the print version of AR, partly due to budgets but, more arguably, to the fact that there are few architects who would contribute an article of this length.
I have began to break this particular partition down. AR will call for submissions and there will be a general toing and froing where the articles that don't make it into the magazine, go online. This is not to say that the articles are not worthy, rather they may be more deeply in tune with research that requires greater length and critique. I think this is crucial: this sense of opportunity for an endless word count. What I am aiming to do is to transform the mode of production both in terms of critical account, in project reviews for instance, but also in the development of an architectural position.
Alexandra Lange's Design Observer article on the former New York Times architecture critic, Nicolai Ouroussoff, was damning and yet a prescient example to the need for formulating and expressing a position on architecture. Alexandra states: "What outrages me about Ouroussoff is… [that he] has an opinion about design, but his reviews offer not much more than that opinion. His approach — little history, less politics, occasional urbanism — shrinks the critic's role to commenting only on the appearance of the architecture. He might have been the perfect critic for the boom years, when looks were the selling point, but this formal, global approach seems incongruous in a downturn."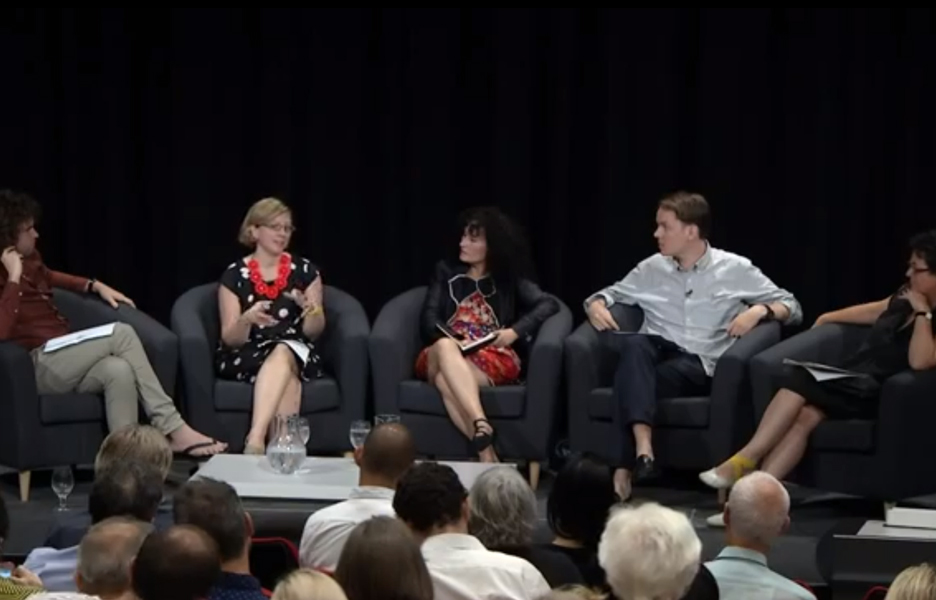 A pertinent question is to look at the idea of traditional or canonical forms of criticism – that of the authoritarian voice of the established employee from a recognised institution – and to speculate as to whether any kind of critical account can be formed when architecture and building is governed by developer-led agglomerations and contractors. The answer may lie in the fact that the closed-book policy of the magazine – something I have begun to dismantle – is somewhat restrictive in the contemporary environment. This touches on the idea of democracy in criticism. Blogging allows for such democracy.
Although someone like Geoff Manaugh at BLDGBLOG was an editor prior to his blogging fame, it is interesting to consider him in relation to the democratic voice of architectural discourse. Manaugh, along with Alexandra and cityofsound's Dan Hill amongst others, break down the established norms of a potentially restrictive and wholly undemocratic professional hierarchy. Manaugh is actually even more intriguing when you look at the content of his critiques. He doesn't necessarily extend beyond 'architecture' as such, but he does extend beyond the showcase building reviews and incessant happy-backslapping that occurs in much of architectural criticism within the discipline – simply not just bound by nation.
Authors like Alexandra and Beatriz Colomina also have a great relevance in the breaking down of barriers of entry into architectural criticism. The book at hand [in this conference series] – Writing About Architecture – is almost an investigative manual on how to write in different guises, providing tools for the reader to go away and devise their own critiques of projects: possibly even through blogging. Colomina, moreover, tries to take the actual built form and to analyse it as a vehicle to understand a much larger difficulty or disciplinary problem. Identifying discourse in these ways provides the critic with a better sense of temporality, extending beyond the immediate and allowing for greater historiographic pertinence.
However, there is also a danger in this analysis, and something I have tried to deviate from in the domusweb series: this tendency towards a marginalisation of what constitutes architecture. It seems only the most notable of projects can be critiqued. Instead of this singular showcase analysis, I have employed a peripatetic approach where I traverse the body of work analysing a singular element. This despatialises the singular architectural object. It removes it from its necessary context and places it amongst a much broader debate.
This sense of despatialisation is key to understanding the impact and prominence of online criticism. As editor of AR, our website currently focuses on reproduced articles from previous issues together with the immediate events and activities that are localised to the Australian market. Our magazine is also localised to the context, even though we are now known as AR Asia Pacific and not just AR Australia.  But for notable blog platforms that promote singular buildings, you don't necessarily have to understand the contextual complexity from which the building comes from. This is not to say that the context is overbearingly important, but that the blogosphere opens up debate to a massive audience whose responses may be governed more by what they see and less by what they know.
What I find interesting in the debate [ABP Agenda] is the potential for speculation in light of despatialised programmes. In days gone by the likes of Archigram devised methods of representation to portray their ideologies in comic book illustrations; or, more recently the pronouncement of speculative ideals in the representation Koolhaas applied in his metropolis-as-manifesto-as-book (Delirious New York) both of which become devices to comment on the city. So, finally, I'll pose a question [to the panel and to the audience]: through despatialising content – making it immediate to either consume or discard – what can be said for the method of representation of a critical account in the contemporary profession?"
Watch ABPUnimelb's video of the 'More than one way to skin a building' panel event here.
Sydney, March 9
The event was chaired by University of Sydney's Dr Lee Stickells, structuring the debate around a conversation – with Alexandra Lange, Elizabeth Farrelly and John de Manincor. It was based on the premise that "everyone's waiting for the next Robin Boyd." Stickells aimed at suggesting that there may be no room for, or no need for, the "next" Boyd. I did not present anything in bulk as in Melbourne, but I did have extensive notes written out more thoroughly below:
I find that there is an emerging gap between practitioners and critics, between academics and practice, and between architects (more broadly) and the construction team. This is troubling. It suggests, as I mentioned in Melbourne, a disjunction between what constitutes an architectural position and what can be described as simply 'going through the motions'.
The discussion, on using Boyd as a starting point, is intriguing at a point when architecture seems at sea without a rudder. Modernism, either in its notable architects or critics (Le Corbusier, Gropius, Mies van der Rohe; or, Banham, Colquhoun, Boyd) held a strong ideological position. A strength of ideal, removed from simply aesthetics. They were authorial in their designs, and speculative in investigations both on paper and in built form. Postmodernism, however, fetishised the role of the author, so much so that it absolved the author altogether. In abandoning the author and removing it from relevance, it actually dismantled the role of the architect as critic. Modernism to Postmodernism didn't require some kind of profound reformulation in the means of cultural production, but it did absolve the architect or architectural critic from prominence.
The latter part of the twentieth century (1990 onwards) witnessed a particularly rampant emergence of new, digital technologies that began to restructure the position of the author and reader. In abolishing the role of the author in Postmodernism, it promoted the significance and dominance of the 'recipient'. Through the advent of the internet, and subsequent blogosphere, the potential audience burgeoned like never before. The audience was more important. The audience became the absolute barometer. A critic can be followed or discarded more easily when there are a multiplicity of platforms. To reflect back onto the point raised in Melbourne, this could hint at democracy. But while it could be infinitely democratic, it could just as easily be incredibly banal.
If Postmodernism situated culture as spectacle – with individuals powerless and questioning a perceivable 'real' – our current condition is what Alan Kirby calls 'Pseudomodernist'. In this predicament we find ourselves at the behest of the individual's actions. Again this can be liberating or saturating, but it forces the individual's actions onto the architectural object. Where information was formerly decided by its author or editor, it is now infinitely open to interpretation.
To end on a quote from Kirby: "In place of the neurosis of Modernism and the narcissism of Postmodernism, Pseudomodernism takes the world away…You click, you punch the keys, you are 'involved', engulfed, deciding. You are the text, there is no-one else, no 'author'; there is nowhere else, no other time or place. You are free: you are the text: the text is superseded."