Article by Online Editor
Photography by Brett Boardman
Designer
Architect Fox Johnston
The usual business of architecture defined by the client-architect relationship is dissolved when an architect designs his or her own home: the architect has to operate from both sides. The Balmain House is a work to be lived in and to 'give' life, with an emphasis on mundane or practical uses of space, shape and light embracing a modest scale. Yet, it is also something of an exercise in architectural self-portraiture – the making of a work that illuminates an architect's practice.
Conrad Johnston, of the Sydney-based practice Fox Johnston, has designed his own small, single-family dwelling on a 241sqm site in a tight, triangular position in the Sydney suburb of Balmain. A challenging site in a dense, residential surrounding (up to 21 properties, depending on how these are counted) located at the end of a number of narrow, old streets.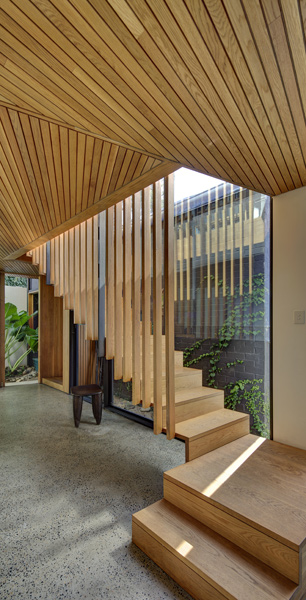 A central dramatic gesture defines the project: a rising polygonal timber object that, seen from outside of the house, appears to hover mid-air. This geometric mutation also contains a social concept: the precise shape of the polygon is not arbitrary but rather a response to natural light and, more directly, the measured, sculpted preservation of immediate neighbouring views.
Of course, views will be obstructed in almost any newly built project of this sort, but this approach is a sensitive one, as opposed to, say, a high-Modernist style that ostentatiously obstructs the view. Johnston states, 'Our practice has no style as such – shape arises from site response.'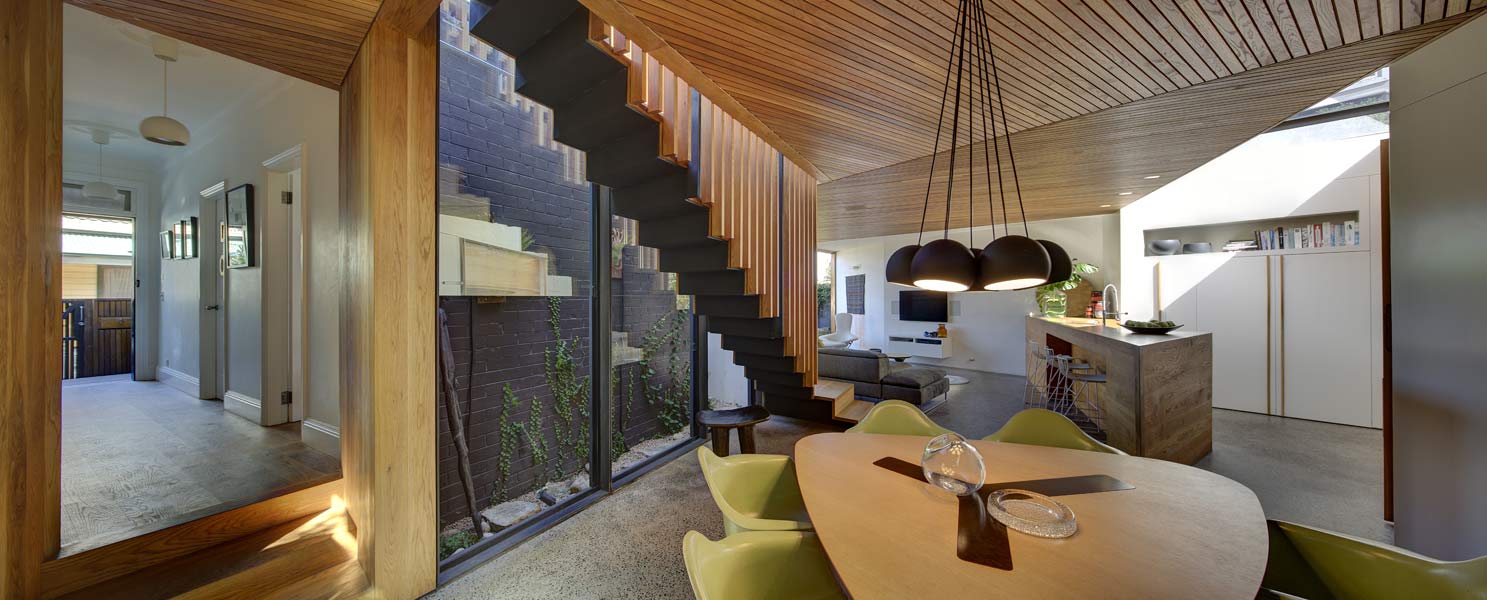 It is not, properly speaking, a new house, but a new structure wrapped around an existing late-nineteenth century workers' cottage. The cottage is a conventional, vernacular building from Balmain's industrial era, a tiny building that has long since ceased to provide the sort of dwelling space required for twenty-first century family life – at least in bourgeois Australian terms.
This old building remains structurally unaltered, with vintage dimensions intact, but has been adapted cosmetically to contain two children's bedrooms and a bathroom. The shower in the cottage's bathroom looks out through a floor-to- ceiling window that, via a miniature garden paradoxically planted with some Jurassic- style flora, links old and new builds; additionally, a skylight allows natural light into a potentially claustrophobic part of the house.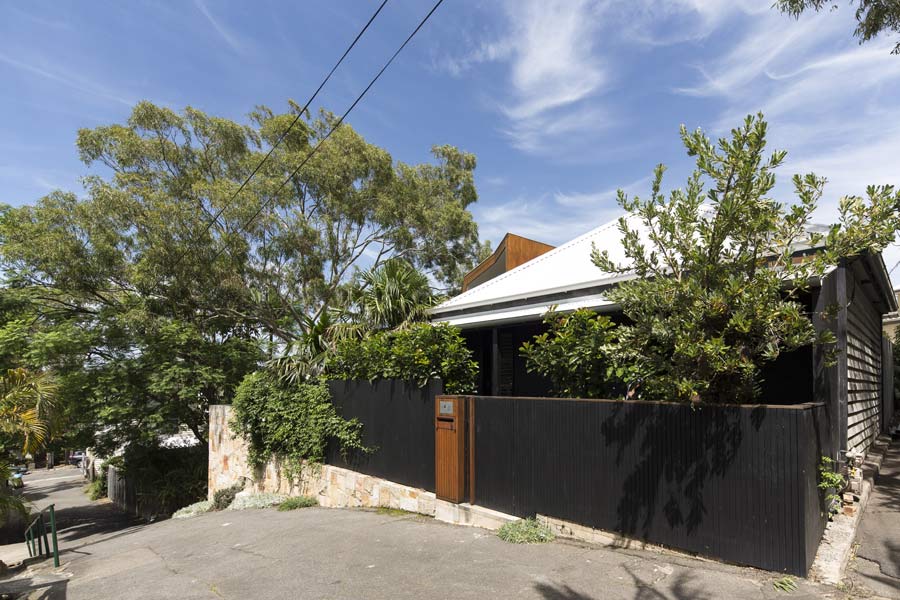 The adjacent dining area offers its own view of the small garden, but from the different perspective it feels like a separate space, in what the architect calls 'borrowed' space: rearticulated in order to maximise the impression of available dimensions.
The cottage's original small corridor, approximately 12 metres long, now functions as the entrance hall to the new architecture at the back, where a humble threshold also functions as a time-travel device: here we suddenly emerge into Modern architectural space proper.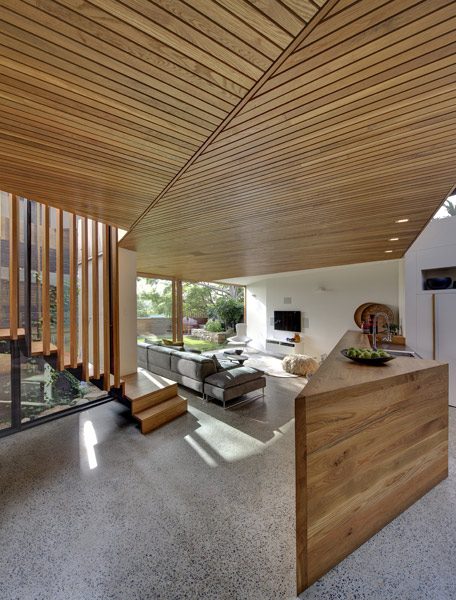 The wrapper and the original cottage remain as foreign bodies to one another and, once inside the wrapped section of the house, one's awareness of the old structure is entirely diminished. The new structure can be sorted into two main sections.
The first is the open plan that dramatically hugs the back and side of the cottage and carries spatial energy around almost 180 degrees towards the distant harbour views. The flowing new areas, dining, kitchen, living and outdoor, are essentially one continuous room.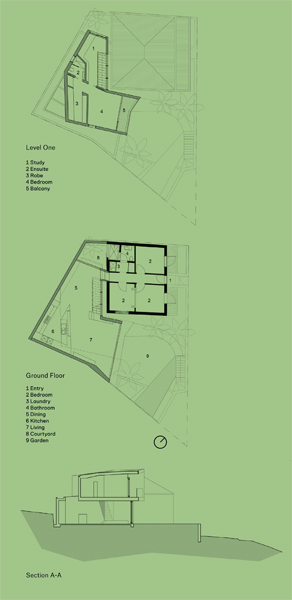 The living area and kitchen are decked out with polished concrete floors and timber ceilings that reflect the shape of the polygon up above this part of the house, reinforcing that sense of the shape above as a free-floating object. The living area opens up with wall-sized sliding glass doors onto a garden that is small but illusively suggests a grander, more extensive space, where once again two areas inform and 'borrow' vanishing points from one another.
The second section sits on top of the open plan and contains the master bedroom, which is housed inside the hovering polygonal shape. The two sections are connected via a steel plate, timber-clad staircase that runs alongside a green wall of the old cottage behind glass, which will function, when it grows, as a sort of terrarium.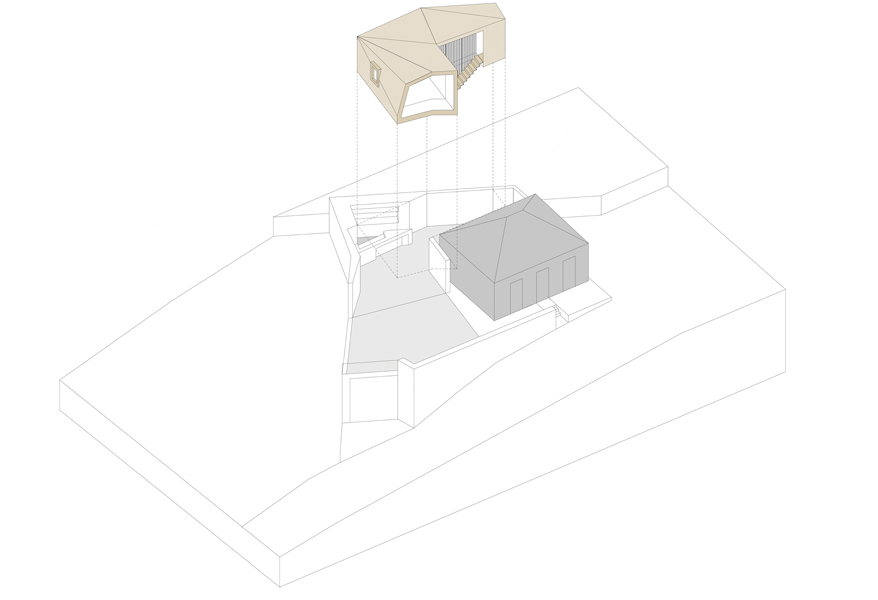 At the top of the stairs a study nook connects to a book-lined passage, giving access to the master bedroom/ polygonal shape. The bedroom has two stark attentions to detail: first, a specially cut, small window, and second, on the balcony, an extra wedge of space, a pause if you like, that one can step into, both of which are designed to appreciate a view of Anzac Bridge.
This house serves to remind us of the poetic use of site limitations, the maximisation of micro-urban space and the crafty use of neighbouring sight lines to generate an aesthetically interesting piece of sculpture to live in.