Article by Online Editor
Designer
Top image: The COX team at Wesley Park before their 2012/2013 Grand Final defeat of Grimshaw.
It's another glorious autumn evening in Melbourne, and the working day is drawing to a close. The nine-to-fivers are returning home from work and the schoolyards have long since been abandoned. But on the luscious oval of Wesley College, overlooked by the apartment and office buildings of leafy St Kilda Road, activity stirs. There is an undeniable sense of anticipation: the weight of nervousness bearing down upon the players about to take to the field to battle it out in the Grand Final match of this year's six-a-side ArchiSoccer competition.
Players and supporters spill through the gates to take their places on Wesley's well-kept turf or pay witness to the encounter that's about to unfold. As the seconds count down to kick-off, the fans fall quiet and all eyes are on the 12 men and women of Cox Architecture and Grimshaw Architects as they take their positions on the field to play for the 2013 ArchiSoccer Cup. It's been another enjoyable season, with 198 games played by some 900 registered players across four divisions, and this is the final game that decides the overall winner.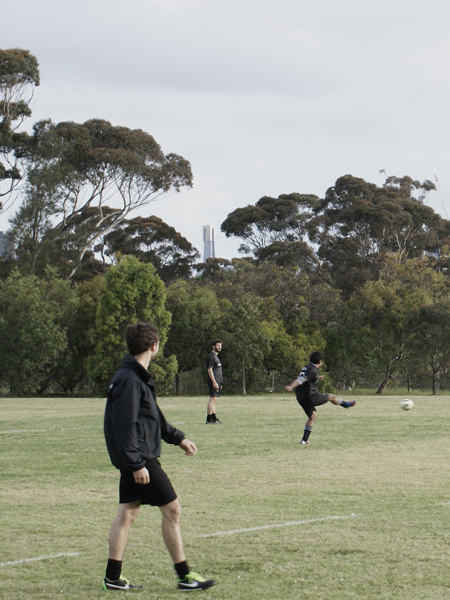 The expectant crowd were not disappointed, as both Cox and Grimshaw exhibited their prowess, vindicating their qualification for the grand finale. It was a game that ebbed and flowed with the crowd exhaling a chorus of oohs and aahs. Cox gained the ascendancy late in the first half with a thunderous strike from their spearhead Justin Bullen. Grimshaw replied by elevating the tempo in the second, but were unable to break the deadlock of Cox's unyielding defence. And so it finished 1-0 to Cox. They were crowned ArchiSoccer Champions for 2013 and the first time in the history of their office. Grimshaw were unlucky on the night, but remain gallant runners-up in what can only be described as a sporting exhibition of inter-office football. The celebrations kicked on well into the night, as plans were unfurled for next year's comeback…
The ArchiSoccer competition is now in its 11th year; however, it wasn't always such an illustrious event. When it was conceived back in 2002 by members of Rothelowman's Melbourne office, the competition was played between only three architecture offices. The league soon proved to be a great success and, within a few years, its popularity grew to form a 15-team-strong squadron. After four years in the hands of Rothelowman and Bates Smart, the torch was passed to Darian Szyszka and Adrian Doohan who became ArchiSoccer's frontmen. Szyszka and Doohan have held their positions for eight years now and, in this time, they have taken the league from a mostly unorganised weekly kick-about, to a structured sporting organisation with regular social events.
In addition to the many other achievements ArchiSoccer has enjoyed in its 11 years, 2013 has seen the recruitment of its first media representative, Alysia Bennett. Prior to the 2013 season, ArchiSoccer connected with its 900 members through its website, Facebook page and weekly electronic newsletter. Bennett has given ArchiSoccer a fresh face and introduced it to the worlds of Twitter and Instagram, which have both proved to be valuable support resources in keeping players updated with week-to-week information on current and upcoming games, and (considering Melbourne's often erratic playing conditions) weather and news.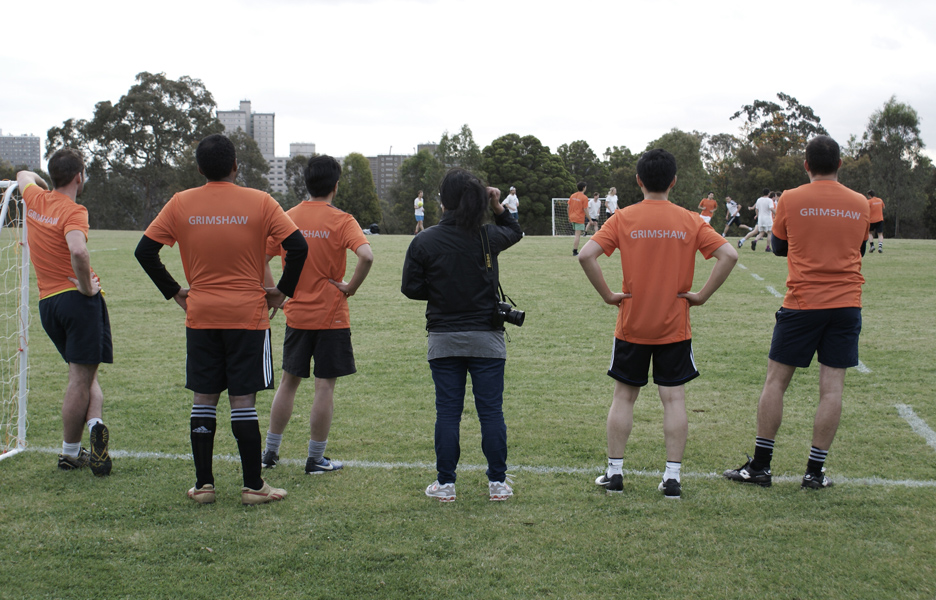 Of all the support strategies implemented over the decade, the attainment of sponsorship has played a key role in helping the league take off, with Accel, Nikpol, Bldg.Eng and Architectural Review Asia Pacific the proud ongoing sponsors in 2013. In the first few years, games were low-key events with backpacks used as goal posts and players in plain-clothes. With the sponsorship, Szyszka and Doohan have been able to provide equipment such as goals, balls and cones, as well as insurance and permits. They also use funding to hold various social functions throughout the season, reaffirming why the league was first established as an opportunity for social interaction between fellow architects.
It's undeniable that the architecture industry has an incredibly active social community. To an already busy summer social calendar, ArchiSoccer is an added weekly social event unlike the usual evening talk or lecture that takes you from a seat in the office to a seat in a theatre. Players intermingle before and after the game – catching up with friends from other teams – resulting in a strong camaraderie between players throughout the season as the wins and losses are dissected and tallied.
As a sportswoman active in the league for three seasons now, I have also seen how the commonality of ArchiSoccer between work colleagues builds relationships within an office environment. And the relationships extend further than those immediately within the team, as games become 'water cooler' conversations with other workmates, with topical conversation starters like who's beating who, impassioned run-ins on the field (either between rivals or between teammates – peers are equally interested in both) and how the current industry climate is affecting other team numbers (and potentially your own team's chances of winning!).
Since its inception, ArchiSoccer has been seen largely as an opportunity to mix with other architects, designers and draughtspeople from varying sized firms and give the industry an opportunity to socialise in a casual (and slightly competitive) environment. Not to mention providing a justification to leave the office at 5.30pm once a week and enjoy the evening's summer sun.
With the evident success that ArchiSoccer has enjoyed in Melbourne over the past 11 years, there are designs to expand the competition in 2014 over the Victorian border and into New South Wales. The excitement of working with some Sydneysiders to build a local ArchiSoccer competition is palpable. With the league potentially occupying two states, we could look forward to a bigger and better future for ArchiSoccer, and perhaps even the occasional interstate game. So watch this space Sydney; in the not too distant future, there may be an ArchiSoccer team recruiting near you!