Article by Simon Harrison
Designer
Architect Godsell and Corrigan
According to Frank Godsell and Patricia Corrigan, the day will come when rising sea levels will enable Australia-bound asylum seekers to sail right into the nightmarish maw of Melbourne's Luna Park. There, within the fortified bounds of the famed Scenic Railway, they propose that refugees should acclimatise to urban life before being processed for integration into the Australian suburbs. Of course, unless you're seeking asylum from New Zealand or Tasmania, Melbourne may seem an impractical entry point. Nevertheless, under a new refugee management proposal, there may be no other way in.
Be it indigenous land rights, water catchment areas or refugee status, issues concerning territory often arise in the national debate. However, it isn't often we find architecture playing such a central role. In the wake of the recent High Court decision ruling the Labor Government's Malaysian Solution unconstitutional, Godsell and Corrigan were called upon to develop an alternative solution to the nation's refugee containment strategies.
According to their blueprints, Australia's suburban backyards will be dotted with Refugee Family Units (RFUs), each containing a single refugee. RFUs are to be fitted to the back fence of ordinary Australian backyards and networked via existing back-lane infrastructure. According to Frank Godsell, Godsell and Corrigan won the commission on the strength of earlier speculative work developing mobile and 'non-territorial' capsule structures, similar in purpose if not scale to Archigram's 'walking cities'. Sadly, in its current incarnation, the RFU lacks the limbs and recursive manipulating devices of its predecessor, an unfortunate development that strips its occupant of any agency or mobility.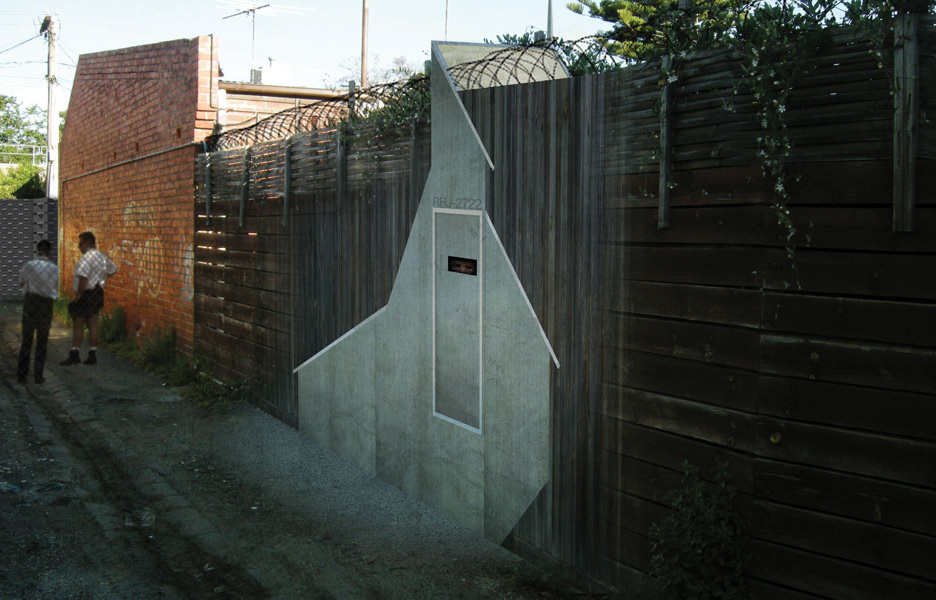 Indeed, the RFU has suffered severe budget cuts, rendering the once well-appointed design as something more akin to a metabolist doghouse than a futuristic vision of idyllic nomadism. Fortunately, in the capable hands of Godsell and Corrigan, the units retain a sense of utility and aesthetic integrity. While tight, each RFU contains a single mattress, toilet and basin – the building envelope deftly contoured to its function. It could well be described as an oversized prosthesis, a shield or artificial skin, allowing the human body to assume the function of a national border. Indeed, Patricia Corrigan informs me much time was spent scrutinising the space-saving strategies employed by developers working in the international student apartment market.
While never stated explicitly, it is apparent from speaking with Godsell and Corrigan that this particular commission is a source of great personal anguish. Besides their clear attempts to make the most of a severely restricted brief, it would appear their own interests are in bringing the grim face of refugee incarceration to the attention of the voting public. According to Godsell, "the prevalence of political NIMBYism in this country has, until now, ensured that Australians need never come to personal terms with the fate of refugees seeking asylum in their country. Onshore or offshore, the ugly reality of detention policies can be ignored". The RFU is attempting to correct this, as Godsell and Corrigan turn NIMBYism on its head – while also turning backyards into ideological battlefields.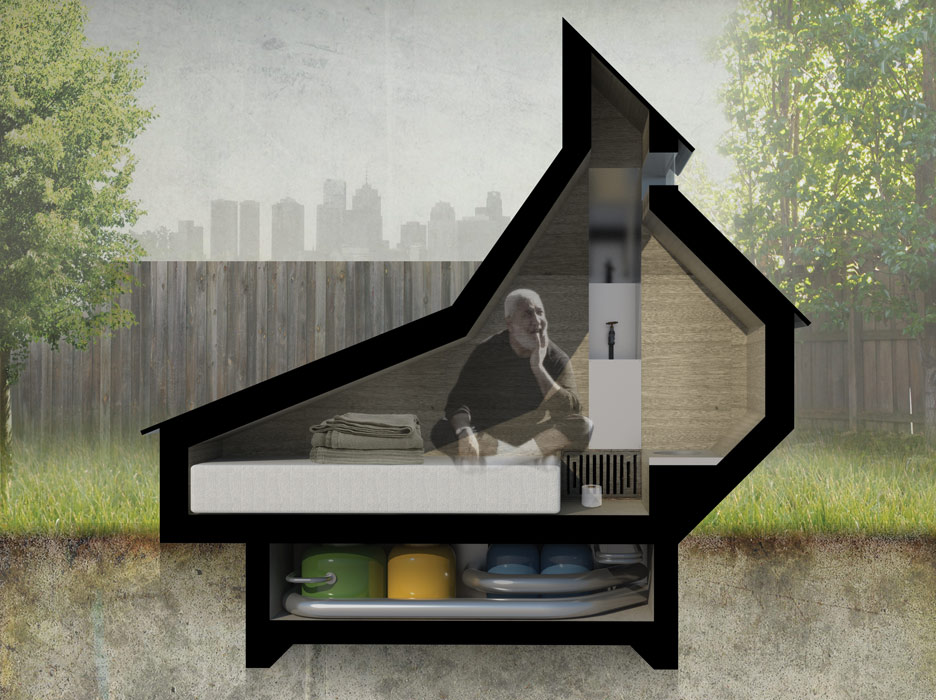 At first, it would seem the proposal has political support, although a cynic might consider the government, having exhausted every alternative, simply has nowhere else to turn. Indeed, significant efforts have been made to gain public support: there's the Refugee Bonus for participating families, the removal of any windows contravening 'overlooking' regulations and, of course, a household carbon offset generated by the inbuilt refugee biomass converter. Another key feature has been the appropriation of back-lane infrastructure to serve infrequent visits from corrections officers and immigration caseworkers. These access ways also serve as the only open space accessible to the detainees. Clearly, the placatory message is skewed toward the householder. It would seem humanity isn't a draw card.
As with each of Australia's refugee 'solutions', the current proposal has significant shortcomings. Reading through the strategic fine print, RFUs are to be classified as zones of extra-territoriality, indefinitely excluding their occupants from Australia's migration zone and associated rights of asylum. What we're seeing is effectively a mirror of Christmas Island, transplanted into suburban backyards. This does not bode well. If the scheme fails, it will only galvanise support for the Minister's preferred Malaysian Solution.

There is also concern about the potential for abuse. How will we treat our backyard guests: as fellow human beings or as captive animals? The disturbing social parable of Lars von Trier's Dogville springs to mind. Or perhaps worse: are our asylum seekers doomed to be the victims of a dispassionate and indifferent Australian populace? Characteristically treading a political tightrope, Godsell and Corrigan have done little to conceal their concern. From their RFU dogbox aesthetic to the haunting refurbishment of the Luna Park processing centre, no attempt has been made to airbrush the ugly reality of refugee detention.
Of course, this may well be a watershed moment in our collective treatment of asylum seekers. As Corrigan reflects: "Perhaps with refugee communities occupying our laneways, Australians will seek to help their new neighbours free themselves from the shackles of a second class existence. By drawing this issue into the domestic sphere, perhaps we can summon the death knell for indefinite and arbitrary mandatory detention."
One can only hope.